Italian Champion - Campionessa Italiana
Jaya from Carolyn's home
(Ch Clan Abby NZ Carolyn's Dylan HD A x Beesting the Reason to Dream HD A)
DOB March 11, 2003 - Nata 11.3.2003
Eye Tested Clear - Esente oculopatie erditarie
CEA/CH CL TNS Genetically Normal (daughter of DNA tested Normal parents for CEA/CH CL e TNS)
Geneticamente esente da CEA/CH CL e TNS (Figlia di genitori entrambi Normal al test del DNA per la CEA/CH, la CL e la TNS)
Hip Scored HD A (1-1) - Lettura ufficiale della displasia del'anca HD A (1-1)
Jaya's Show results - I risultati di Jaya
| | | | | |
| --- | --- | --- | --- | --- |
| DATE | Class | SHOW | Judge | Results |
| 12.6.2005 | Open | international CACIB Viterbo | Mr. Walter Schicker (D) | Exc 1° CAC CACIB BOS |
| 25.6.2005 | Open | international CACIB Orvieto | Mr. Tibor Gellen (Hu) | Exc 1° CAC CACIB BOS |
| 3.9.2005 | Open | international CACIB Livorno | Mr. Berrry Makepeace (GB) | Exc 1° CAC CACIB BOS |
| 25.9.2005 | Open | international CACIB Roma | Mr. D. Kuzelj (Slo) | Exc 1° CAC CACIB BOS |
| 2.10.2005 | Open | international CACIB Eboli | Prof. Sonia Bellan Falletti (I) | Exc 1° CAC CACIB BOS |
| 9.10.2005 | Open | international CACIB Bastia Umbra | Mr. George Kostopulos (H) | Exc 1° CAC CACIB BOS |
Jaya's record of 6 CACs and 6 CACIBs in just 6 Shows ! - Il record di Jaya di 6 CAC e 6 CACIB in 6 Show !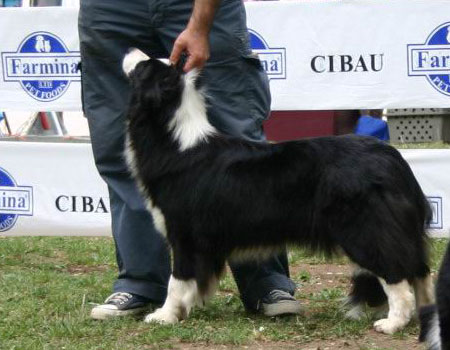 Pedigree
Clan Abby NZ Carolyn's Dylan

HD A

CEA DNA Tested Normal

Gr. Ch. Clan-Abby Hiland Trekker

NZ. Aust. Grand Champion Troumagik Tartan Trekker

Ch. Hiland Haze of Clan-Abby

Ch. Hazie-Star at Clan-Abby

Nz & ANKC Champion Glentress Chain Reaction

NZ & South African Campion Clan-Abby Christmas Star

Beesting The Reason to Dream

HD A

CEA DNA Tested Normal

Caristan Coming Storm

Wizaland Loves Casanova

Caristan Scarlett Ohara

Sh Ch Beesting Rogansrock Gift

Sh Ch Beesting The Little Wigginer

Beesting Grace and Favour of Rogansrock
Breeder:

Kisses from Jaya !