Campione Internazionale - Campione Italiano - San Marino Junior Champion
Flossie the Witch
International Champion - Italian Champion - San Marino Junior Champion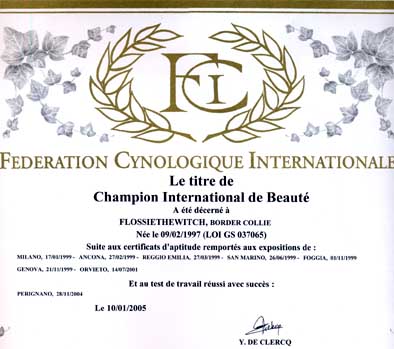 Flossie ha avuto una carriera espositiva di grande successo, ed è stata la TOP BORDER COLLIE FEMMINA nel 1999 e Riserva di CAC all'esposizione Europea di Tulln. Ha da tempo lasciato i ring espositivi per dedicarsi al grande amore della sua vita: lavorare le pecore, passione che ha trasmesso intatta ai figli Keep e Witch. Ha passato il Test di Lavoro su Gregge con il punteggio di 81/100, laureandosi anche Campione Internazionale di Bellezza. Compete nelle gare di Classe 1 di Sheepdog.
Flossie ringrazia il suo istruttore Moreno Simonelli per i risultati ottenuti nella pratica dello sheepdog !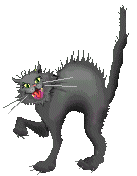 Flossie had a very succesful show career, being the Top Border Collie Bitch in 1999 and res CAC at the Euro Dog Show in Tulln. Today she has left the show ring to dedicate herself to her favourite activity : herding sheep, passion that she trasmitted to her sons Keep e Witch. She passed her Sheep Working with the score of 81 out of 100, and she gained the prestigious title of International Champion of Beauty. She competes in Sheepdog Trials.
Flossie thanks her trainer Moreno Simonelli for her sheepdog achievements !