All started in 1990 after meeting Ch Grandver State of the art, the great "Sun Shonik", but especially after the arrival of Ch Runrig Lochmoidart, our formidable "Quanah". The first Allymoon litter was bred during the summer 1993, when Sun Shonik and Quanah became the very proud sire and dam of marvellous puppies, due to achieve future successes in different sections. Since then the family has grown, thanks to some excellent imports from abroad and some very good homebred litters. Our breeding program combine today some excellent British, Australian and NZ bloodlines, among the most appreciated in the world. We're working on these lines to improve our quality, always in the respect of the breed and following our own ideas. Every litter is carefully programmed, striving for quality in temperament and type and always keeping on screening our dogs for hereditary diseases. We usually breed four or five litters a year, as we believe we need to breed a certain number of pups to select what's in our dreams.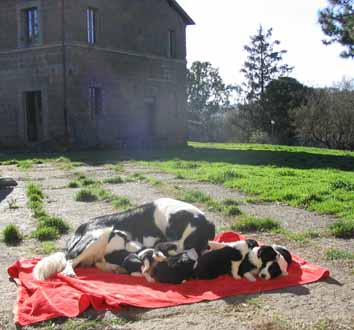 All our breeding dogs are tested clear from any hereditary disease and all our puppies have been eye tested, since 1993 up to now, to be sure they are safe from congenital eye defects. Our pups are sold with regular invoice, and in some particular cases people can have them with no money payment being in co ownership, so that our kennel could still trust on these dogs for breeding purposes in the future.
Everybody interested in our future litters can write us for information. We feel free to give advises to future owners about the best suitable puppy according to their needs. We always care about future happiness of all our kids, so we want them to go only in the right homes. We do not breed for money, we reinvest all the money that comes from the litters in the kennel itself.
Our dogs are only used at stud to approved bitches and only after considering carefully the compatibility of the breeding lines.
Together with the Border Collies, we are lucky to own four delightful Golden Retriever ladies but we consider ourselves just occasional breeders of this breed. Nevertheless, considering the breeding of our ladies we can proudly say we can produce excellent Goldens as well, in terms of type, temperament and health. But we only breed very seldom, we've bred only five Golden Retriever litters up to now.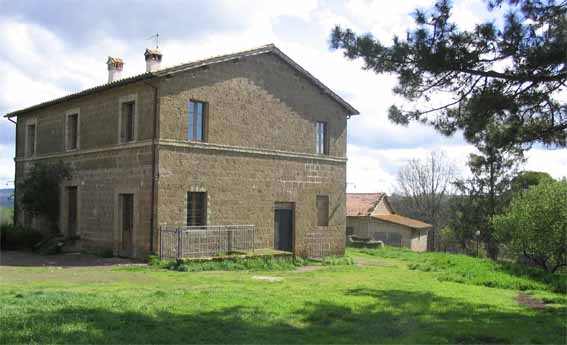 Our house is located on a beautiful green hill in the Viterbo countryside, around 40 minutes from Rome (Italy) and our dogs have plenty of space to run and play here. We also have some sheep to test the herding instinct of our dogs.